INCREASE YOUR VISIBILITY
Appear in the top 5 results in your area

IMPROVE YOUR E-REPUTATION
Raise your rating without technical constraints

IMPROVE YOUR RANKING
Be more visible to your customers when they search for your products or services

STAND OUT FROM THE CROWD
Deliver the right message at the right time
COMMENT LA CARTE AVIS GOOGLE VA PROPULSER VOTRE ACTIVITÉ
What is the Google review card?
The Google review card is a powerful tool that will become your best ally in improving your local SEO and the visibility of your business. This card will actively encourage your customers to leave helpful positive comments and reviews about your products and services and share them on your Google My Business listing in a matter of seconds.
The contactless Google review card is as convenient as a credit card, having the same dimensions and using the same technology, it is easily portable and manageable.
How does the Google Review card work: scan, harvest!
To collect your reviews, nothing could be simpler, you just need to scan the card on your customer's phone, thanks to NFC technology they will be directly directed to your Google My Business listing in the review section, they can then leave a review directly and publish it instantly! You can start collecting customer reviews as soon as you receive your Google review card!
What are the benefits of the Google review card?
Thanks to the NFC technology that the card is equipped with, you can collect several authentic reviews in one day, getting 5-star reviews becomes child's play!
The benefits of the card on your Google Maps listing are numerous:
Naturally and easily encourage your customers to leave a review in a few seconds
Significantly improve your overall rating
Increase the number of positive reviews
Drown out negative reviews in a mass of positive reviews
Improve your visibility on Google Maps
Strengthen your customers' trust
Attract more prospects and customers
Boost organic traffic to your website
Increase trust in your brand
Have a positive impact on your e-reputation
Effectively protect your business against harmful criticism
Ensure that your brand maintains a good image with consumers
Increase the frequency of your physical store and dominate your sector
Highlight the qualities of your business
What is the validity of the card?
The Google review card is valid for life, it does not require any subscription, or any specific software, you will receive your card directly ready for use!
Is the card compatible with my business?
The card is compatible with all professionals who are in direct contact with their customers:
Bakeries
Restaurants
Opticians
Hotels
Guest houses
Law firms
Therapists
Photographers
Architectural firms
Notary offices
Real estate agencies
Real estate agents
Real estate diagnostician
Clothing stores
Hair salons
Beauty institutes
Independent beauticians
Chain networks
Craftsmen
Kitchen designers
And so on
What phones are compatible with the Google review card?
All phones from the iPhone 8 onwards are compatible with the card, which is about 98% of new generation phones.
How many cards do I need for my business?
The number of cards depends on the traffic of your business, the stronger the traffic, the more it will be necessary to have a significant number of cards. For example, for restaurants, we recommend one card per number of employees in the room.
What are the delivery times for the Google review card?
Your card will be shipped a maximum of 72 hours after your purchase on the site.
Does my customer need to have a Google account to leave a review?
It is absolutely necessary that your customer has a Gmail account to leave a review. Keep in mind that some of your customers will not be able to leave a review for several reasons: incompatible phone, absence of a Gmail account... However, you will get excellent results with all your other customers. A good online reputation is built over time.
What are the dimensions of the card?
The format and weight of the Google review card is similar to that of a business card: 85mm x 55mm. It is therefore easily portable and can easily slip into a pocket or a wallet, which is particularly practical for professionals who travel to their clients or patients.
Does the card comply with GDPR standards?
There is no data transmission, the card fully complies with GDPR standards, for any additional questions contact Merci Haavy.
Are there any prerequisites?
When can I start using my card?
The card can be used as soon as you receive it, without any settings or technical intervention from you.
Are reviews fake reviews?
Manipulating Google's algorithm is subject to penalties and can have serious repercussions on your company's visibility. Moreover, fake reviews are monitored and controlled by UK law, the reviews you will collect with Haavy are all real reviews written by your real customers.
Will I be able to delete negative reviews?
Haavy does not allow you to delete negative reviews, however, getting positive reviews on a regular basis will allow you to increase the number of overall reviews and will mechanically bring down the negative reviews received in the past.
Is the google review card right for me?
If you have a Google My Business profile (or are planning to have one) and want to improve your visibility on Google Maps, the Google Review card is just what you need. 
I have an e-commerce site, is the card suitable for me?
Unfortunately, the Haavy card is intended for professionals who are in contact with their customers on a regular basis.
Boost your local visibility with the NFC Google Review card
Get more positive reviews from your customers and maximise your visibility and sales!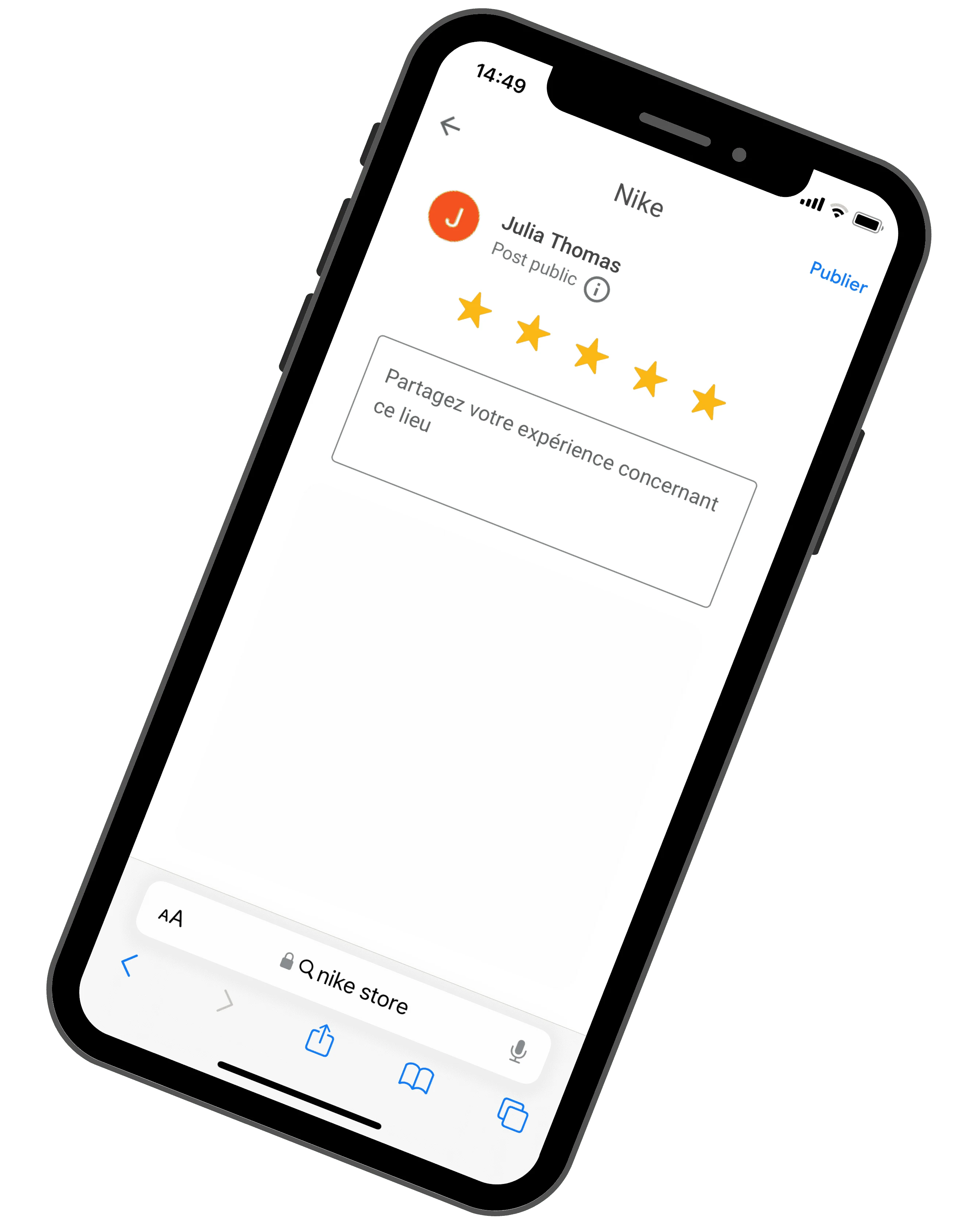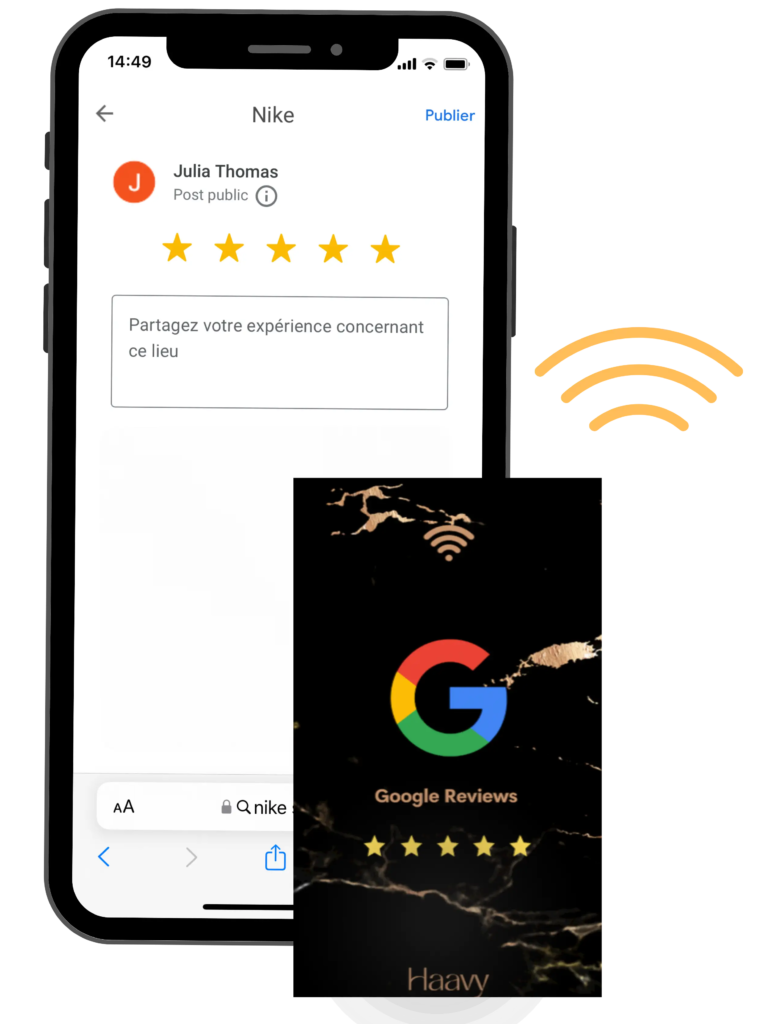 Beat the competition
Turn every transaction into an opportunity to strengthen your online reputation!